A brief introduction to Alpha Phi Omega
Alpha Phi Omega began in 1925 at Lafayette College in Easton, Pennsylvania. Through word of mouth, our affiliation with the Boy Scouts of America, and our love of community service, Alpha Phi Omega has grown into an International Organization with chapters in the Phillipines, Australia, and Canada. APO is the largest collegiate fraternity in the United States with chapters at over 350 campuses in the country. Although APO was associated with the Boy Scouts of America (and still is today), the organization welcomes and encourages any and all genders to join our organization. Alpha Phi Omega is a dry (alcohol free) fraternity and we do not engage in any form of hazing. We are an all inclusive fraternity that accepts any majors, degeree (undergraduate/graduate), races, ethinicities, sexualities, etc. Every semester, the Phi chapter of this fraternity accepts potential new members into the recruitment and education process. Mentored by big brothers and the Vice President of Recruitment and Retention, potential new members begin the period of becoming an active brother in the fraternity with leadership, friendship, and service events.
To skip to the to the information for the Recruitment Process, click here.
To skip to the to the information for the New Member Education Process, click here.
The Phi Chapter of Alpha Phi Omega has been serving the Syracuse community for decades. Since its official chartering in 1932, people from Syracuse University, SUNY-ESF, and elsewhere have been able to experience the full range of benefits that membership in Alpha Phi Omega has to offer. Not only do we strive for excellence in service to the campus, fraternity, community, and nation, but we as a brotherhood stress the importance of fellowship and friendship in everything we do through continued pursuit and practice of leadership skills.
What are the benefits of being a member of Alpha Phi Omega?
There are many advantages that our members have experienced through their participation in Alpha Phi Omega, which include (but of course are not limited to) the following:
Exposure to the students and other members of the campus community (both SUNY-ESF and Syracuse University) in a friendly, safe environment
A diverse pool of members of all different majors, ethnicities, sexualities, genders, and backgrounds guarantees a place for you in the brotherhood
Recognition as a member of the largest collegiate fraternity in the nation almost everywhere you go
Opprotunities to meet friends for life and to find someone who enjoys your hobbies just as much as you do
Ability to participate in activities in your surrounding Syracuse community and beyond through service projects, fellowships, and leadership conferences
A strong network of current members, staff, and alumni at different chapters of Alpha Phi Omega [as well as Phi Chapter] to help you make National and even International connections for your life and your career
Selection of a wide variety of service projects to fit your interests, ranging from tutoring children to feeding the homeless to working with community centers to supporting local causes (such as Vera House and the Veteran Center) to raising money for animal shelters. If there's a specific type of service you like to do, our chapter will do what we can to make it happen!
Access to a multitude of leadership opportunities including, but not limited to, Executive Board positions within the fraternity, project chairing opportunities, Alpha Phi Omega's National and Regional group of renowned leadership courses, such as LEADS and training seminars, and Brotherhood classes within the Phi Chapter itself
Admittance to our fellowship program which holds a variety of events, such as movie screenings, game nights, dances/balls, "Teach a Skill" nights where one brother teaches others about something they are skilled in, such as writing HTML code or painting, lasertag battles, potlucks, and much more
An easy way to not only broaden your experiences through community service, but to prepare you for your future with leadership training and make your college experience ten times more fun than before!
Don't believe me? Here are a few testimonials from some of our members about their experiences in Alpha Phi Omega.
"Ever since I was a kid, doing service in my community has been really important to me - I was actively involved in several 4-H clubs and I was a member of the National Honor Society in high school. When I went to college, I was looking for an organization to join where I could be involved in and give back to the community that would be my home for my undergraduate career. I was very skeptical about joining a fraternity because I didn't feel comfortable around alcohol, and I did not want to join an organization that wasn't inclusive of all gender identities. I was really excited to find APO, which values leadership, friendship, and service, is dry, and is inclusive and accepting of people however they identify. Throughout my involvement in APO, I have met so many amazing people who have different social, economic, religious, political, racial, ethnic, sexual, and gender experiences. These brothers all have their own personalities and interests, but we all have the same thing in common - the desire to make the world a better place. Through APO I was matched with my Big, who is one of my best friends, and she loves and supports me for who I am. At the time I joined APO I was going through a pretty big life transition, and I don't know what I would have done without my Big helping me through both the process of becoming a brother and the process of loving and accepting myself. My Little is also another important person I met in APO, and they helped me learn how to develop the skills to guide someone else through achieving a goal. It was such an honor to watch them grow and strive through the education process of our fraternity, and I had a lot of fun bonding with them. I love APO because of the people I am able to connect with by doing service to strengthen the community." Kai Troge. Joined Fall 2014. SUNY-ESF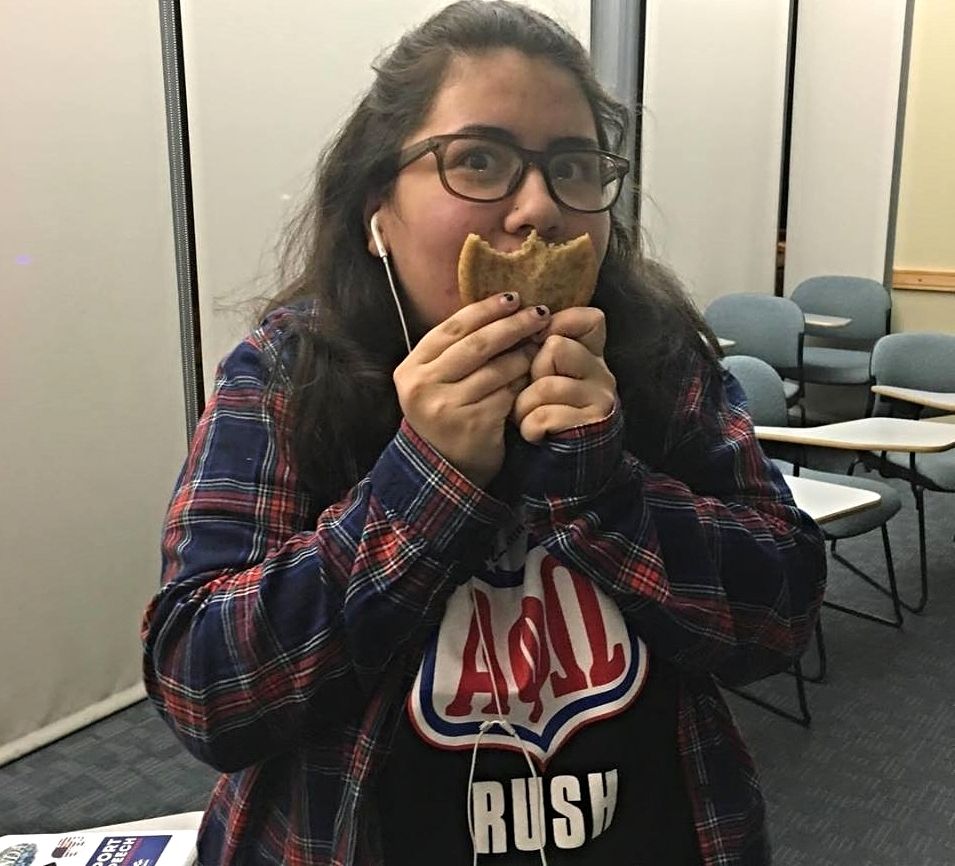 "When I joined APO the first semester of my sophomore year, I was at a very pivotal point in my life. I had started to seriously question myself, my goals, my hopes and dreams for the future. My life became filled with darkness, as other personal matters were occurring on top of my self inquiry. Once I became embedded into APO however, that darkness turned to light, and I became the person I am today. I am confident in my abilities to take on leadership roles, I am comfortable with who I am, and I am a more fearless individual, thanks to my experience in APO. It is because I gave this seemingly unconventional co-ed fraternity a chance, I met some of the most important people in my life, all of whom I don't know what I would do without. The key to having an enriching experience like I have had is to truly immerse yourself into the organization, have fun, and most importantly — be yourself. I am thankful to the wonderful people I've met in Phi and encourage others to give this amazing organization a chance to change your life, like it did mine. You will watch yourself grow as a leader, as a friend, and as a contributing member to society in Alpha Phi Omega." Vanessa Salman. Joined Fall 2014. Syracuse University
What do you need to do to join the Phi Chapter of Alpha Phi Omega?
To join Alpha Phi Omega, you must first go through a "Recruitment" process in which you will attend a certain number of events to learn about our organization, begin to understand our three pillars of Leadership, Fellowship, and Service, and to meet out many members. After finishing the Recruitment process, you will attend an Induction Ceremony where you will become a neophyte or a potential new member. This marks the beginning of your New Member Education process. The New Member Education process will take six weeks. Throughout this time, you will continue to learn about the fraternity while meeting different requirements to demonstrate your skills in leadership, fellowship, and service. Once the New Member Education period is over, you will become official members of the fraternity during our Initiation Ceremony.
The information for Recruitment can be found below. To skip to the information for the New Member Education Process, click here.
Recruitment Information
When it comes to recruiting new members for Alpha Phi Omega, we welcome any and all students, undergraduate and graduate alike, of any major and background, as long as you fulfill the following Fraternity and Sorrority Affairs (FASA) Office requirements, as mandated by Syracuse University:
Candidates for membership must:
Have earned at least 12 credit hours from Syracuse University (or SUNY-ESF) prior to joining APO (i.e., you cannot be a first semester freshman or a first semester transfer student)
Be registered as a regularly enrolled, full-time student in good standing
Have a cumulative GPA of 2.5 or better at the start of the Recruitment process
Be in good standing with the Office of Students Rights and Responsibilities (i.e., not on probation, suspension, or have an open, unresolved judicial case)
If you fulfill the requirements listed above, then you are eligible for enrollment in our fraternity. Before you begin your Neew Member Education process, you must attend one General Interest Meeting and Four "Recruitment" Events (see below).
Attend one of these events before attending any "Recruitment" events:
Name of Event
Date
Time
Location
General Interest Meeting
February 12th, 2018
7:00 PM - 8:00 PM
HOL 111 (SU Campus)
Facebook Event
General Interest Meeting
February 16th, 2018
6:00 PM - 7:00 PM
HOL 105 (SU Campus)
Facebook Event
General Interest Meeting
February 21th, 2018
5:30 PM - 6:30 PM
LSB 100 (ESF Campus)
Facebook Event
"Recruitment" Events (Attend four of these after you have gone to a General Interest Meeting)
Name of Event
Date
Time
Location
Facebook Information
PB&J Making
February 12th, 2018
7:30 PM - 8:30 PM
Hol 111
Facebook Event
Valentine's DAY CARD MAKING
February 13th, 2018
7:30 PM - 8:30 PM
NIFKIN LOUNGE (ESF)
Facebook Event
Paint Night
February 14th, 2018
6:00 PM - 7:00 PM
HOL 111
Facebook Event
Leadership Games
February 15th, 2018
7:00 PM - 8:00 PM
LSB 100
Facebook Event
Speed Dating
February 16th, 2018
6:30 PM - 7:30 PM
Hall of Languages 105 (SU Campus)
Facebook Event
Cupcake Decorating
February 17th, 2018
2:00 PM - 3:00 PM
Nifkin Lounge (SU Campus)
Facebook Event
Scavenger Hunt
February 18th, 2018
1:00 PM - 2:00 PM
Schine Student Center (SU Campus)
Facebook Event
Care Packages
February 19th, 2018
6:00 PM - 7:00 PM
Marshall Hall 115 (ESF Campus)
Facebook Event
Pet Toy Making
February 20th, 2018
8:15 PM - 9:30 PM
Moon Library 110 (ESF Campus)
Facebook Event
<
Game Night
February 21th, 2018
6:00 PM - 7:00 PM
LSB 100 (SU Campus)
Facebook Event
BROTHERHOOD PANEL
February 22nd, 2018
7:00 PM - 8:00 PM
LSB 100 (SU Campus)
Facebook Event
Ice Cream Social!!
February 23th, 2018
7:00 PM - 7:00 PM
Hall of Languages 500 (SU Campus)
Facebook Event
If you are interested in joining Alpha Phi Omega and would like more information on the Recruitment process, click here to sign up for our Potential New Member emailing list. If you have any questions, please feel free to email the Vice President of Recruitment and Retention at apophi.vprr@gmail.com
New Member Education Information
After you have completed the Recruitment process, you will be Inducted into our fraternity. Inductions will be held March 5, 2016. Please try to free yourself of obligations on that day from mid-afternoon throughout the evening. This ceremony is vital to your joining of our fraternity. After Inductions, you will officially be a neophyte within our Fraternity. This means that you are in the New Member Education Stage of your membership where you will have to complete various tasks showcasing your Leadership, Fellowhip, and Service skills throughout a six week period. You will become a member of our fraternity upon Initiations on March 22nd, 2018 after completing the following tasks:
14 Hours of Community Service (at least 7 Brotherhood hours and 2 Brotherhood projects)
Attendance of all New Member Education Class meetings (Mondays at 8 PM in Nifkin Lounge (ESF Campus)
Attend two chapter meetings (Sundays, 5 PM, Hall of Languages 107 (SU Campus)
Payment of all fees ($35 New Member Fee at the beginning of your New Member Education process, $60 Initiate Fee prior to your Initiations into the Fraternity as an official member
Pass all quizzes (with a score of 80% or better)
Interview

30 brothers (Active or Associate)
All Potential New Members in your New Member Education Class
All E-Board members
All four Advisors
Two "others" (Alumni, Abroad, or Other Chapters)

Participation in at least

1 PNM Class service project
1 PNM Class fellowship
2 Brotherhood fellowships
1 PNM Class fundraiser

Completion of one PNM Class Phishbowl and two Brotherhood Phishbowls
Once these requirements are complete, you may Initiate into our fraternity and become an official member. Note that Initiations takes place on March 22, 2018. Just as with Inductions, Initiations is crucial to attend and will require no commitments that day from mid-afternoon until late at night. Please try to clear your schedule sooner rather than later for this event.
If you have any questions about the New Member Education process, please email the New Member Educators at pledgemaster.apo.phi@gmail.com